About Our Scholarship Programs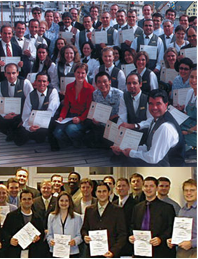 Founded in 1985
, the Marine Hotel Association is a not-for-profit international organization, which represents the cruise line marine hotel segment and its supporting supplier community.
MHA has made a commitment to professional development and growth by providing annual scholarships to the employees of its member companies.
The Association is proud to be the driving force behind successful training programs offered in conjunction with its continuing education partners: Cornell University School of Hotel Administration and Florida International University — Miami.
As the single most important activity for the Marine Hotel Association, the scholarship program is the culmination of all efforts and the most worthy re-channeling of revenue back to the industry as a direct benefit.
Contact MHA offices for full details on participation:
(415) 332-1903 | mha@mhaweb.org