2019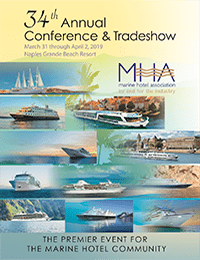 Marine Hotel Association
34th Annual
Conference & Trade Show
Naples Grand Beach Resort
Naples, Florida
Mar 31- Apr 2, 2019
Join Us for the Marine
Hospitality Industry's
Premier Event
Be there in 2019!
EXHIBITOR REGISTRATION –
MEMBERS ONLY
SOLD OUT
Booth Costs
8'x8′ Booth: $2,400
8'x10′ Booth: $2,600
Premium Booth: add $250
Booth Sharing: add $250
Booth Information
Hard wall exhibit stand
One (1) 6′ draped table
Carpeting
One (1) company ID sign lettered to your company's specs
One (1) wastebasket & two (2) side chairs
Exhibit Hours
Monday, April 9, 2018: 10am-4pm
Tuesday, April 10, 2018: 10am-3pm
Set-Up
Sunday, April 8, 2018: 9am-5pm
All booths must be ready for final inspection by show management at 10am, Monday, April 9th. Each booth must have a company representative in the booth at the time of final inspection. Tear down begins on Tuesday, April 10th after 3pm. No company may dismantle their booth prior to 3pm.

Full payment on all reserved booth space is due upon date of invoicing. Each booth reserved comes with one (1) complimentary registration which includes all social events, business sessions, seminars and trade show. Each additional full registration is $650. Up to four additional badges are provided for staff who are assisting in the booth and not attending the social events. (These badges may not be utilized as complimentary trade show access for visitors.)
All registrants must be MHA Members. Contact Us for membership payment. Please read Exhibitor Guidelines and Terms when registering for complete details.