2024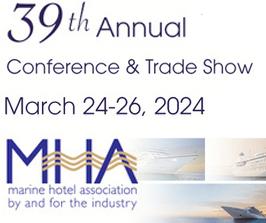 Marine Hotel Association
39th Annual
Conference & Trade Show
Naples Grand
Naples, Florida
March 24-26, 2024
Join us for the Marine Hotel
Community's Premier Event
Be there in 2024!
CRUISE LINE DELEGATE REGISTRATION
Complimentary – Register Here
Full registration includes all social events, business sessions, seminars and trade show.
Cruise line companies are invited to bring as many of their purchasing and operations personnel as they wish. Please include your list of cruise line personnel that will be attending, including title and whether full program or just trade trade show.