2023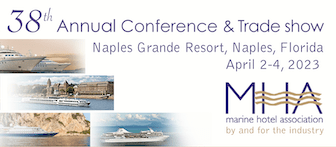 Marine Hotel Association
38th Annual
Conference & Trade Show
Naples Grand Resort
Naples, Florida
Apr 2-4, 2023
Join us for the Marine Hotel
Community's Premier Event
Be there in 2023!
HOTEL INFO & RESERVATIONS
MHA is pleased to offer a group special room rates (single or double occupancy) to all registered attendees. Please note that the cut-off date for the room block is Apr. 2, 2023. Any reservations made after this date will be space available and the rate no longer guaranteed. Convention rates are offered for the nights of Apr. 2-4. Our room block may sell out prior to the cut-off date, so we urge you not to wait and to make your reservations as early as possible. The Naples Grand Resort will be updating the dates on their website soon.
To reserve your accommodations, please contact the hotel directly by clicking the "register online" button below. Be sure to request "MHA Group Reservations" when making your reservation. Cancellation policy is seven (7) days in advance of arrival date.
Check-In: 3pm | Check-Out: 12noon
The utilization of hotel suites for purposes of hospitality or meetings must be limited to times that do not conflict or overlap in any way with the official Conference and Trade Show activities. Your cooperation is appreciated.
Beware of Hotel Reservation Poachers!
MHA does not endorse booking hotel reservations through any source. Other third-party companies may contact you in an effort to get you to book through them and they should not be considered a legitimate source of hotel rooms for the MHA convention. Often, they will misrepresent themselves as our official housing provider. Rooms for the MHA event should only be booked via the link provided, or by calling the hotel directly to personally make your reservation. Should you book a room through any other company, we will not be able to protect you from a non-refundable deposit or resulting lack of reservation. If you are contacted by anyone please let us know by emailing us: mail@mhaweb.org
Rates: $289 (double or single occupancy)
Current applicable taxes will be added to listed rate.
Register Via Phone
Group Reservations: (239) 597-3232
www.naplesgrand.com